Caleb P., New England Conservatory
As authentic Asian foods go in Boston, most purists would probably skip over the long list of greasy takeout joints and stir-fry deliveries catering to students looking for a quick fix. Even among the many sit-down Asian restaurants surrounding the campuses of BU and MIT, a plethora of options end up making the decision of where to eat harder, not easier. For an impressive performance in serving Vietnamese food, however, Le's Vietnamese Cuisine in Allston serves an a satisfying and stomach-warming bowl of pho noodles for more than reasonable prices.
Le's menu covers a large variety of Vietnamese foods, from stir-fried noodles to seafood entrees; however, the strength of the restaurant lies in their pho, a noodle soup served with either beef or chicken. While some Vietnamese joints may hand over a near-scalding bowl of mostly water and call it pho, Le's takes care to supply plenty of freshly cut bean sprouts, basil, sliced lime, and green chili pepper on the side of each dish. Intended to be taken as a palate-cleansing side dish, the crisp aroma of the vegetables almost makes them appetizing enough to be consumed on their own. The most prominent item on their menu is the xe lau, or extra-large beef soup. While a few cents more than the other soups, the adjective "extra-large" easily justifies an entree that remains below eight dollars. Within a few minutes, the waiter emerges with a dish of mixing-bowl proportions, filled to the brim with soup and heartily stuffed with noodles. Tackling the dinner plate-sized bowl requires finesse of both chopsticks and the soup spoon to avoid missing any of the delicious sliced rare eye round, brisket, flank, tendon and tripe buried within the noodles. Hot sauce is provided, but hardly necessary; the fresh vegetables may be added directly onto the soup for additional crispness and bite without masking any of the subtle beef flavoring in the noodles. After the last bits of noodle and beef are fished out of the depths of the bowl, the soup that remains may either be left alone, or for the overachievers, be sipped down until dry. While at first sight, the soup may not seem as filling as a New England clam chowder, the salty remnants of beef make the soup as much a satiating experience as it is a body-warming one.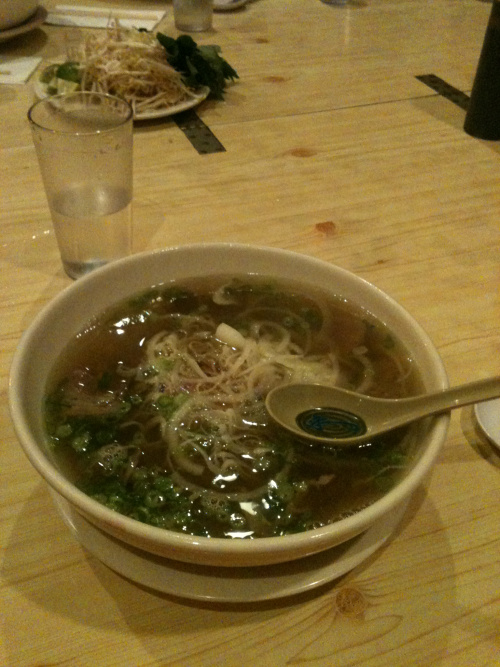 The design of the dining area at Le's allows the restaurant to be a convenient choice for a casual lunch, supper with friends, or even a classy dinner before a night out. The service is excellent for a sit-down restaurant, and take-out is also available for the particularly rushed. When it comes to exploring Asian foods in Boston, one must be sure to miss Vietnamese food, especially Le's.