After living in New York for nearly two years, I still feel like a tourist when I wander into Chinatown. With its precariously curling streets and crowds of shoppers, Chinatown seems to extend infinitely in all directions; Manhattan recedes from the viewer, leaving only an alien microcosm. Indeed, I am a foreigner here: I do not speak the language, I cannot read the signs, I stand outside the world and look inwards. There, I find mysterious spectacle and exotic flora, submerged history and the terribly familiar. Subway, Citibank, and Häagen-Dazs stand next to vendors hawking grapes the size of bull testicles, dried mackerel, bean curd, and dragon's beard candy—hand-pulled threads of sugar folded into wispy bundles. Constantly expanding, Chinatown colonizes nearby neighborhoods while falling victim to the colonizer, too; even as it swallows up the last scraps of the Lower East Side, Chinatown faces its own parasites: the homogenizing gaze of the multinational corporation, the sanitizing wipes of wealth, the sterilizing wash of "assimilation," "incorporation," and "post-industrialization." These bugs carry their own peculiar disease, a variety of forgetting that erases the physical remnants of the past. Where history has been inscribed on the cityscape, McDonald's rewrites; where the past pokes through layers of urban sedimentation, a new condominium sandblasts history smooth. Finding outcroppings of history in Chinatown proves more difficult with every chain store and supermarket that emerges.
Doyers Street squiggles south off Pell Street, a narrow jumble of barbershops and restaurants that seems liable to unhinge itself from the map. On a Sunday morning, the street is quiet save for the snip and buzz of Yi Fa Hair Salon, Toy Apple Beauty—dusky interiors neon-lit at 10:30 a.m. Pork and fried dough saturate the atmosphere; hair cut, a shave, and breakfast for the men kibitzing on the corner, dogs straining against their leashes to taste the air.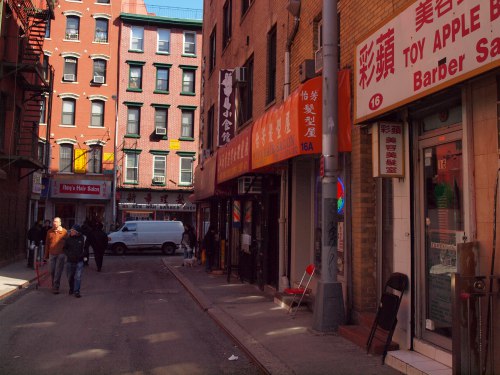 At number 13, Nom Wah Tea Parlor has been around since 1920. In 2008 and 2009 the restaurant shut down for months at a time due to Department of Health violations. Earlier this year, Wilson Tang took over for his uncle Wally. Wally Tang worked at Nom Wah for 60 years; now, Wilson intends to bring the restaurant into the 21st century with a Facebook page and an updated menu.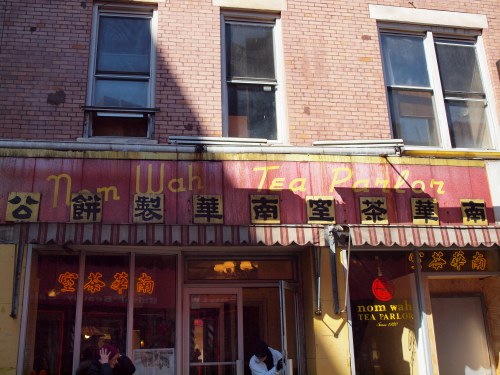 Although he intends to keep the new menu close to its predecessor, he has introduced additional dishes that appeal to a more modern clientele—think roast pork buns and ribs. Nom Wah's ambiance, however, remains the same. Checkered tablecloths, golden good luck cats waving in the window, pictures of old Chinatown haphazardly hung on the walls—the interior vibrates with an energy caged beneath the surface. Decades of gossip palpitate, barely visible—the woodwork crawls with eyes long abandoned by their rightful, voyeuristic owners. Canisters of tea are stacked on shelves instead of books. Like an old-fashioned soda shop serving chrysanthemum tisane rather than chocolate malts, Nom Wah preserves a Cold War aesthetic. Charmingly dated, never atavistic, the room welcomes diners to sit and sip awhile. A tranquil activity cuts through the clatter of metal teapots and a swinging kitchen door: the nagging sense that this restaurant has seen more life than a library's worth of documents could contain. Uncluttered and spacious, Nom Wah bursts at the seams with its collection of spectral lives. They never quite precipitate, remaining suspended in a solution of not-quite-amnesia.
For dim sum, diners mark their selections on a paper menu. No carts here—the kitchen cooks everything to order. Preparing dishes in the kitchen for dining room delivery is a contemporary style, currently popular in Hong Kong and Vancouver. The dishes arrive fresher, hotter, less stale—a little novelty is lost for the sake of quality.
Bean curd skin with pork and oyster sauce tastes like farmhouse cooking, a rustic cluster of firm pork hidden in a slick white slipper.  Knobbly chicken feet would feel at home eaten on cracked earthenware—my mother remembers eating these with her grandmother, a woman intent on bringing Eastern Europe to the American Midwest. Transposing these gelatinous, perfectly soft feet from the old country to a concrete wonderland is jarring; and just a few blocks from this ancient tea parlor, futuristic marble banks cower under Section 8 housing.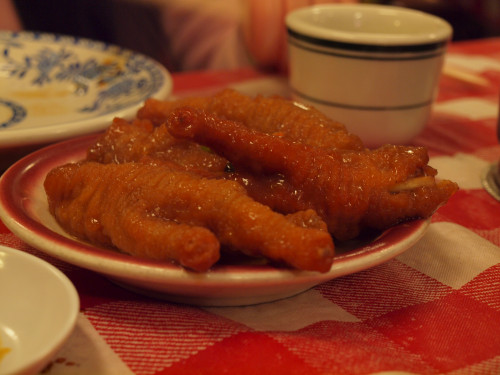 Lustrous sesame balls are fried without a trace of grease. These flawless gems crack open to reveal a kernel of red bean paste. Similarly, roast pork buns almost split of their own volition, spilling out char siu filling. Barely browned shrimp and chive cakes erupt in spurts of oniony jus. The shellfish tastes like a purified hit of shore air and sand: glassy and green.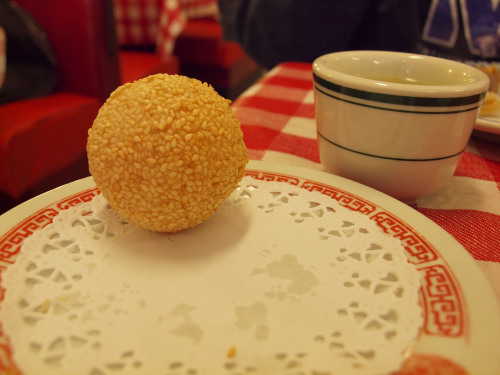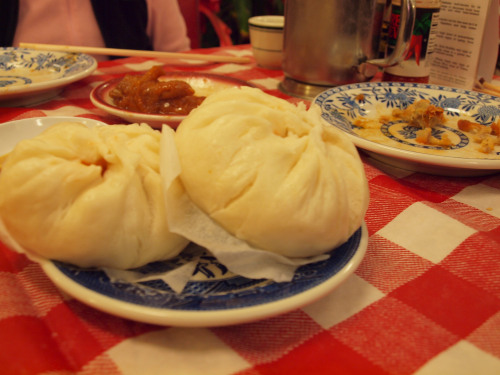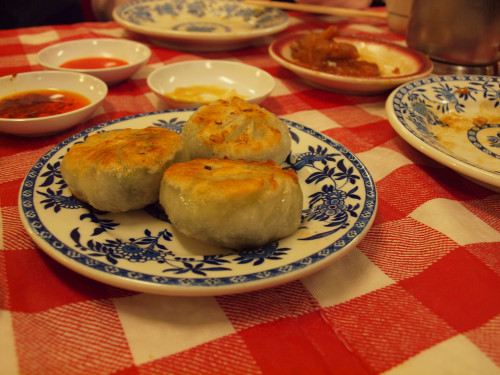 Following a sixth cup of tea, we stagger to Bayard Street and dessert. Mei Li Wah Bakery is our destination, a shabby storefront that houses a few booths and a counter stocked with racks of pastries. A lotus paste bun is standard, as is a custardy pineapple bun. We came for the egg yolk buns though, little miracles of sugar and dough. Just bigger than golf balls, the buns look like engorged river stones, absolutely smooth. The first bite releases a gush of bright yellow paste, eggy like sunshine and luminescent like a country morning. I sigh, savoring this bite, this moment that is historical for its sheer pleasure. Gloomy March mornings rarely yield such beauty. But the wonder of playing the tourist, of exploring newness and finding joy in the mundane and happiness in the minutiae of everyday existence, is not so uncommon on these uncountable streets. "Forget it, Jake. It's Chinatown," Walsh says at the end of Polanski's Chinatown. Here, however, Chinatown is about the antithesis of forgetting: remembering the now forever.