These are the second dog days of Avenues.
After two weeks touring the South—Mississippi, Alabama, Tennessee—I drove north to Chicago. Before collecting my sister from her summer program at Northwestern, my family stopped downtown for dinner. Alinea stands at the center of Chicago's dining scene—since 2005, Grant Achatz has trained a legion of "modernist" or "molecular" culinarians, all of whom share a common aesthetic lexicon. Visit Michael Carlson's Schwa or Curtis Duffy's Avenues and the food seems a logical extension of the "Alinea school" (which owes much to both The French Laundry and El Bulli). Duffy will leave Avenues sometime in September to open his own restaurant; Avenues lost Duffy's predecessor, Graham Elliot, to a similar wanderlust.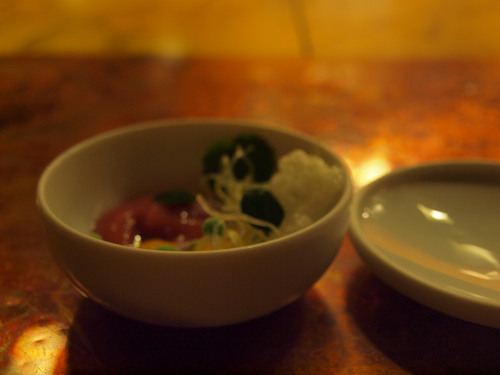 For this generation of young (and ambitious) culinary professionals, the impulse to establish a persona supersedes the impulse to establish a legacy. In order to construct a celebrity personage, the chef eventually requires a studio, a place for free experimentation and artistic integrity. Legacy—the monumental history of the individual artist—follows from the personality of the chef. And in order to express personality, the chef needs his own space—to control, to dominate, to own. Even though Duffy crafted his own legend at Avenues, he operated in another man's theater, painting in the fading tracery of another man's palette.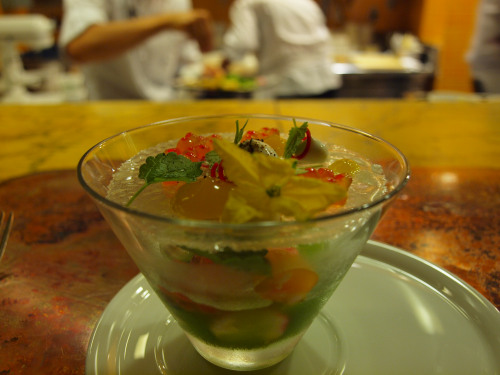 Despite Duffy's misgivings about staying at Avenues, his style reflects a mature personality and an impressive eye for poetics. Crab comes obscured under a transparent sugar cookie: iridescent orange trout roe and kalamansi gel hover above cucumber broth. The mechanical tension between each component resolves with a forceful tap; the tuile shatters, seasoning the crab soup. A sphere of ice cold sudachi juice, encased in a cocoa butter shell, erupts between closed lips. Mounds of shaved truffle settle on parmesan crisps, all balanced on a shooter of truffle soup. In these compositions—and they are carefully composed, constructed with architectural intention—Duffy exposes the ephemerality of his food. For each dish, there is a decisive moment from which all bites evolve. Break open a hollow cylinder of frozen coconut. As a sweet pineapple custard flows out, the liquid thickens and warms, enveloping slices of banana and melting the coconut ice. Photographing Duffy's dishes only once betrays their beauty. Their fragility belies a capacity for orchestrated change. Like a whirligig or clockwork toy, eating follows a preordained program. Duffy winds up the doll; the diner just starts the machine. This kind of extreme precision never lapses into robotics. Every geometry gleams with Duffy's spirit, and an original animation pervades every artifice.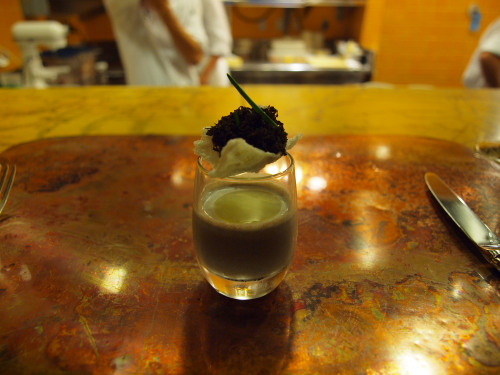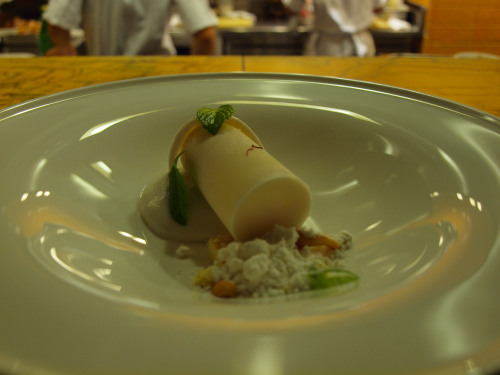 In these last, static months of Duffy's tenure, he surely anticipates future productivity and growth. The tenacity of Duffy's legacy  at Avenues remains unknown. He need not worry, however, about developing a stronger persona. If Grant Achatz has been his culinary generation's Stein, then Duffy may be its Hemingway yet. Under Duffy's direction, the techno-intimidation of "modernist cuisine" can become an elegant—and unabashedly masculine—rendering of the exotic and the everyday.