Andrew Giambrone, Yale University
Anyone familiar with New Haven's dessert scene will undoubtedly frequent one of three boutiques near campus for a late-night snack: Ashley's Ice Cream on York Street, the newly opened Mochi Store on Crown Street, and, of course, the California-imported FroyoWorld on High Street. But last Friday, a new dessert store called Flavors opened next to (the infamous?) Toad's Place, drawing crowds eager to test out its self-serve frozen yogurt. Intrigued by its bright colors and light-hearted atmosphere, I entered the store expecting just another spin-off of FroyoWorld. To my surprise, I discovered a store with a great degree of variety, a friendly staff, and a ton of space to boot.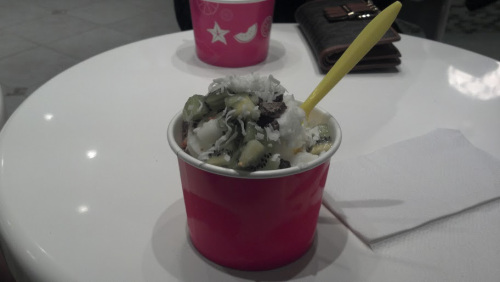 As the name indicates, Flavors offers multiple types of frozen yogurt, including "Alpine Vanilla," "Cable Car Chocolate," "New York Cheesecake," Pecan Praline," "Cookies n' Cream," "Thin Mint Cookie," "Red Velvet," "Mounds," "Pumpkin" and "Euro Tart," which can be paired with more than 30 fruit and candy toppings. Score one for Flavors: FroyoWorld only offers about half the amount of toppings as Flavors does and fewer types of yogurt. While both stores are similarly priced (49 cents per ounce),Flavors comes out on top not only in the 'tartiness' of its frozen yogurt but also in the feel the store evokes.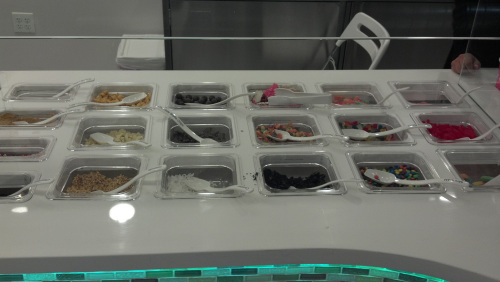 On the night I went to Flavors, I decided to get three types of froyo—Pecan Praline, Euro Tart, and Pumpkin (woah, it's October already? I hope this means my roommate makes pumpkin pie soon…). The Pecan Praline was very sweet, but this was counterbalanced by a subtle nuttiness beneath the froyo's soft texture. The Euro Tart had just the right amount of tarty flavor, and was complimented well by some of the sweet toppings I chose to pile on: coconut shreds, mochi pieces, fresh kiwi (unlike those found in Yale's dining halls), and—how could I not?—Reese's Pieces. Like the Pecan Praline, the Pumpkin was also sweet, but not overly so, recalling the pumpkin-flavored coffee I've tried at some of New Haven's coffee shops. All in all, the cup came out to about 14 oz. of frozen yogurt plus toppings, making for a bill of about $7. (If I had remembered to bring the coupon I had received from an employee who was giving them out earlier in the week, I could have gotten $2 dollars off, not a bad deal when you consider FroyoWorld's prices.)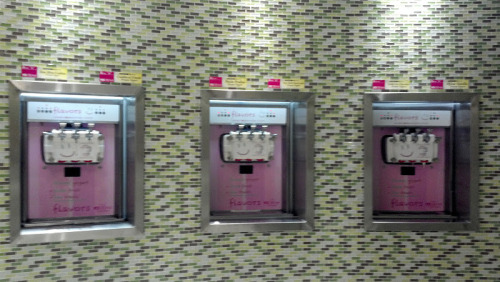 Unlike FroyoWorld, Flavors doesn't feel cramped. The store is actually in the space where Labyrinth, a local bookstore, used to be, so there's plenty of room to stand or sit, whereas FroyoWorld has only about 3 tables plus a ten-foot counter (sometimes, when it's crowded, FroyoWorld can feel like an assembly line, except instead of Fords, people are making froyo.) You can actually sit down with your friends and have an audible conversation, despite the large plasma screen T.V. that plays music videos in the background.
Unless FroyoWorld lowers its prices or extends its hours, I think it will be hard for them to compete with Flavors, which is open seven days a week from 11a.m. to 11p.m. Sunday through Thursday, and 11a.m. to 12p.m. Friday through Saturday. I will certainly be back soon, even as the temperature in New Haven continues to drop.