Back home, I'm able to cook much more frequently and with greater creativity than at college. Whether living in an apartment, traveling, or just hanging around with the parents, you can easily take the initiative and put together an unusual dish that shows off your newfound sophistication and faux worldliness.
Salads get a bad reputation as malignant health food, wilty fodder for skinny anemics shedding their last week percentage points of body fat. Taking summer salads in a distinctly unhealthy direction, however, produces astonishingly tasty and refreshing meals that require minimal time and effort.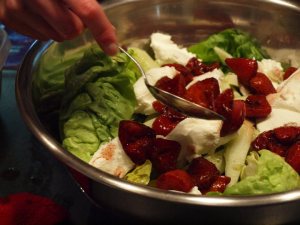 For example, consider the strawberry, a fruit that populates buzzing, hot May afternoons and mosquito filled evening dinners. Supermarket strawberries typically taste watery and uninspired though, so pickling less than superior specimens seems an excellent option. Cut the vinegar with a creamy cheese, add back sweetness with candied almonds, and buff out the mix with Boston lettuce and cucumber to craft a light salad appropriate for the sweltering summer months.
Pickled Strawberry, Ricotta, and Candied Almond Salad
Serves 5 hungry college students
Pickled Strawberries
Prep: 20 min
Total: 30 min
Calorie Count: haha
Ingredients
2 c.

halved strawberries

½ c.

balsamic vinegar

½ c.

red wine vinegar

½ c.

water

1/3 c.

sugar

1 ½ tsp.

black pepper

1 tbsp.

lemon juice

½ tsp.

vanilla extract

½ tsp.

lemon zest

1/8 tsp.

cayenne pepper
Cooking Directions
Combine water and sugar in a medium saucepan, medium heat until all the sugar has dissolved. Remove from the heat, add the strawberries, vinegar, lemon juice, lemon zest, and vanilla extract. Briefly return to heat until the liquid has reduced slightly. Add the black and cayenne pepper, transfer to a sealable container and refrigerate for 6 hours. Reserve the pickling liquid.
For Candied Almonds
2 c. whole almonds
½ c. water
½ c. white sugar
½ c. brown sugar
1 tsp. cinnamon salt to taste
Combine water and sugar in a medium saucepan, medium heat until all the sugar has dissolved. Add almonds and cinnamon and stir to thoroughly coat, cooking until the liquid reduces by at least 2/3. Spread almonds on a greased baking sheet. Sprinkle very lightly with salt. Cook at 180 degrees for 30 minutes, until the syrup has become tacky an and the almonds have roasted.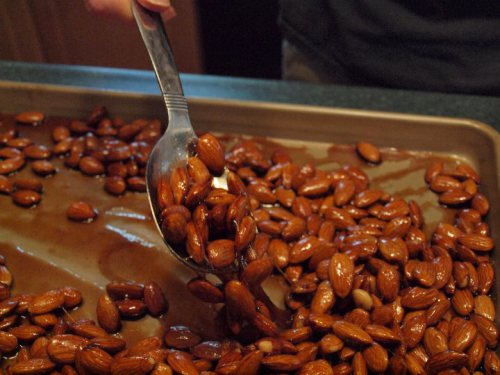 For Salad Pickled Strawberries Candied Almonds 1 ½ c. ricotta 1 head Boston lettuce 1 cucumber olive oil to taste Wash and roughly chop the Boston lettuce. Cut the cucumber into 2 in. x 1/8 in. x 1/8 in. batons. Place a layer of lettuce on each plate first, followed by cucumber, ricotta, strawberries, and almonds in that order.. Pour the reserved pickling liquid over the salad and drizzle with olive oil. Serve.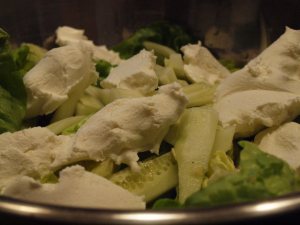 Photo credits on this blog largely go to my brother.