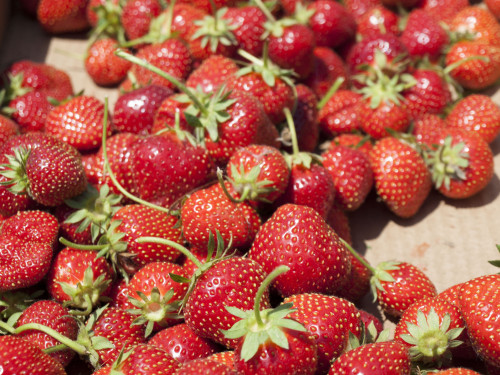 Needless to say, supermarket strawberries and their fresh-picked counterparts are of entirely different material: the first, a watery ectoplasm, the second, a thick honey. In the fields, strawberries grow close to the ground, buried under their own leaves and hay. Hence the German word Erdbeeren, or earth-berries. Yet, strawberries taste more celestial than chthonic; they are a blood spatter of sunlight cast into fleshy gems. Warmed by the sun, a fresh strawberry looks translucent and tastes like a heady breath of perfume. In St. Louis, we pick fist-sized berries, not fragile fraises des bois. Whereas the biggest supermarket berries often taste the weakest, the most mature specimens on the farm contain the most concentrated flavor: size does not signify dilution. We worked for an hour and harvested 15 pounds; thus far, we have canned eight jars of jam, baked two pies, and churned a few quarts of ice cream. With berries so sweet, I decided to add Greek yogurt to the recipe, retaining a few egg yolks for richness. I love the harsh scrape of strong yogurt against an almost cloying mouthful of fruit. The following recipe only works with the best, freshest berries, so be satisfied with pictures if you lack a local strawberry patch.
Strawberry Greek Yogurt Ice Cream
4 cups strawberries
2 cups milk
1 cup sugar
3 egg yolks
1/4 tsp salt
3 cups Greek yogurt, full fat
Mix 1/2 cup sugar and egg yolks in a bowl. Combine 1/2 cup sugar, salt, and milk in a saucepan. Bring to just under a simmer over low heat, stirring constantly. Slowly pour the hot milk mixture into the egg mixture. Return to the stove and cook until slightly thickened. Remove tops from strawberries. Put strawberries and custard into a blender. Blend on a low setting until strawberries are completely pulverized. Add the Greek yogurt. Blend on a low setting until completely combined. Pour into a large bowl and refrigerate for 3 hours or until cold. Process in an ice cream machine according to manufacturer's instructions and store in the freezer until ready to serve.