Zach B., Yale University
Looking for Thai food in New Haven, a student will find many options that are all very similar to each other. So a trip to Bangkok Gardens, a small restaurant on York and Chapel, seems random and out of the way. In fact, the only attraction I originally feel towards Bangkok Gardens is its glass walled dining room. At lunchtime, sunlight streams through the glass and lights up a room that would be ordinarily be dour and sparsely decorated, but the sparkling natural light awakens the space, and I immediately feel at home. (Pictures after the jump)
The lunch menu offers an appetizer and an entrée for around eight dollars. It provides a few choices for the appetizer, including shu mai, dumplings, and rolls, to go along with ten or eleven main course offerings. I decide to try the rolls and the dumplings, along with drunken noodle and Red curry, on two separate visits.
To begin, the rolls underwhelm me. Crispy rolls with cabbage and chicken served with sweet and sour sauce, they remind me strongly of the mini egg rolls served at every Chinese buffet in America. Although perhaps more skillfully made here, the rolls offer nothing worth remarking on. They are both inoffensive and uninteresting.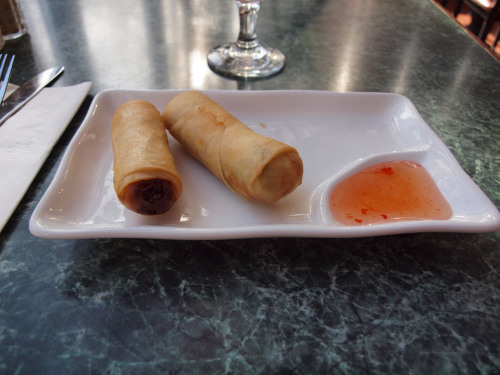 Moving on to the drunken noodle, this dish contains chili sauce with chopped chicken, onion, peppers and basil, along with egg. The wide noodles disintegrate delicately, lightly mirroring the chili sauce, but also possessing a slight sweetness uncharacteristic of typical noodles. Although at first I do not detect the basil advertised in the menu's description, I find it located at the bottom. This disappoints me as the basil does add another layer of complexity. Without distribution throughout the drunken noodle though, Bangkok Garden's rendition of the classic comes off a slight disappointment, despite my overall satisfaction, if only for lost potential.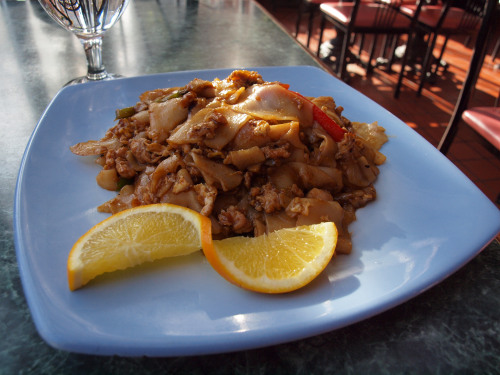 On the second visit I go for the dumplings. Once again, the dumplings come right off the buffet line at the local asian restaurant. Slightly better executed, the skin is a little doughy and the filling is mediocre. Though I prefer these to the rolls if only for the shitake mushrooms they add, this is essentially the same taste profile as the roll; there is really no differentiation.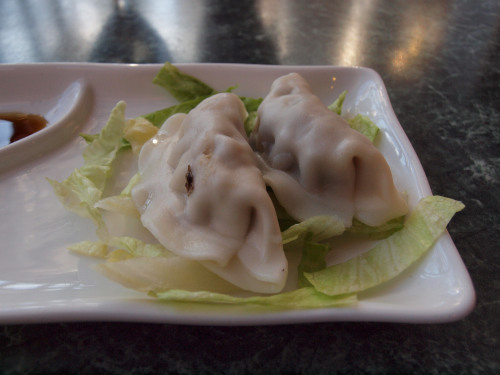 Then I try the red curry with beef, served in a coconut milk curry with bamboo shoots and bell peppers. The coconut milk curry comes off too creamy, overwhelming the curry flavor in favor of the coconut. Despite the slightly disappointing curry, the vegetables are cooked well and grant the curry a stronger presence. Overall, I perceive the red curry comes as an almost imperceptibly flat musical note. Instead of throwing the whole experience off, it just nags at the back of the mind.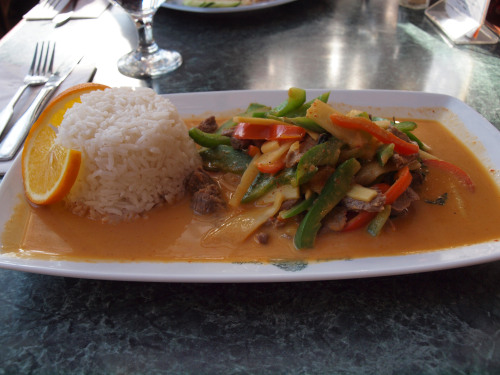 In the end, I am more impressed with the space than the food. Inside the glass walls I am insulated from the bustling street, able to enjoy my meal in peace. In the survey of New Haven Thai restaurants, Bangkok Gardens will fade into the crowd, but their eight dollar lunch special, convenient location, and delicate noodles make this spot worth a stop, if only for a brief respite from hectic life and to judge the food for yourself.
Bangkok Gardens
172 York St.
New Haven CT