Zach B., Yale University
As part of my mission to explore food in New Haven, I decided to visit three Yale noodle house staples and gauge their quality for myself: Ivy Noodle, York St. Noodle, and Bentara. If you missed part one, check out the review of Ivy Noodle.
Walking down York Street, the casual passerby cannot possibly miss the large neon sign advertising the presence of "York St. Noodle House." With seating outside and inside, the cozy environment seems inviting and smells like sizzling meat. As I look at the menu, I see that the entrée prices here match Ivy Noodle, with noodle bowls and plates around six to seven dollars.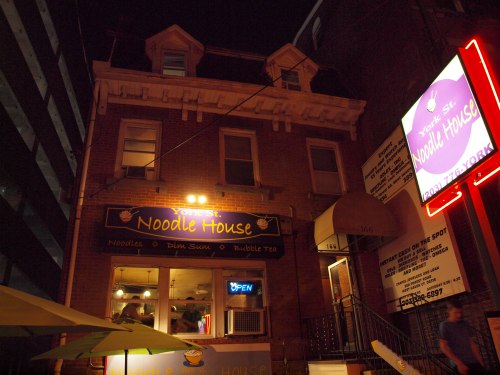 The wok glass noodle plate comes out quickly and consists of rice vermicelli noodles with an assortment of vegetables and choice of meat. This dish tastes fairly typical for a noodle house and I really do not pay attention to it. "Wok glass noodle" fades into the background, unremarkable.
Upon receiving the combo dumpling noodle soup though, I feel confused. After eating at Ivy Noodle, I have come to expect a layer of grease covering everything edible. Here, neither the noodle plate nor the soup I order taste oily at all. Instead, they taste light, almost refreshing, and settle nicely. The combo dumpling noodle soup has three thin-skinned, steamed dumplings: one chicken, one shrimp and one vegetable. I only wish that the bowl contained more of the salty and spicy dumplings. The simple, slightly sweet stock complements the dumplings, but does not overpower their flavor.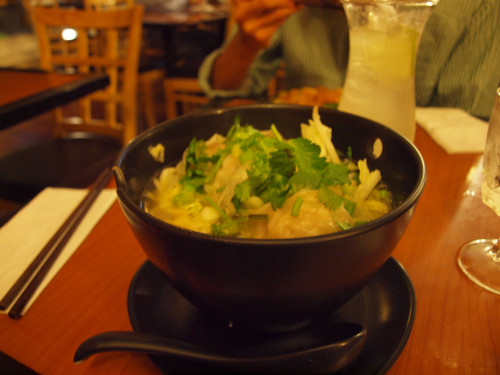 Unfortunately, the large amount of vegetables distracts from the dumplings and the noodles. With each bite I chew bok choy, and the next mouthful, more bok choy. Do not get me wrong, I enjoy bok choy in moderation, but the balance of vegetation to noodle in this soup heavily favored the bok choy.
Overall, York St. Noodle House's dishes ended up far from perfect, but I leave the restaurant full and not covered in grease. With comparable prices, speed, and distance to Ivy Noodle, but better quality, York St. Noodle House is the obvious choice.
York St. Noodle House
166 York St
New Haven, CT 06511