by Andrew Giambrone, Yale University
As someone of both Chinese and Italian heritage, the eggplant has always been a staple in my family's cuisine, from stewed eggplant on my mother's side to eggplant parmesan on my father's. But even my relatives sometimes forget that eggplant, like the tomato, is actually a fruit; beneath its bitter taste and purple skin lie small, soft seeds. The fruit is capable of absorbing large amounts of cooking fats and sauces, which allows for very rich dishes. Hence, it's no surprise that many restaurants try to compensate for the eggplant's bitterness by dousing it in oil or sauce.
While visiting Yale for commencement this weekend, I ordered eggplant specials from two eateries in New Haven—Basil and Alpha Delta Pizza—which offer eggplant with garlic sauce ($7.95) and an eggplant version of the Wenzel ($8.95) respectively. Sadly, each prioritized oily sauces above fresh fruit and so fell short of the balance between bitter and sweet that I expect from eggplant dishes at home.
At Basil, the eggplant was covered in a syrupy garlic sauce flavored with scallions, and came with a side of white or brown rice. Though the eggplant was tender in the middle and slightly firm on the outside (as eggplant should be cooked, in my opinion), I could have used another cup and a half of rice to soak up all the excess oil on my plate. Indeed, the eggplant was so saturated with sauce that its vibrant, purple color shimmered in a glossy glob of grease. Now, there's nothing wrong with occasional, greasy Chinese food in my book, but when my eggplant begins to swim in something resembling a pool of curry (when I didn't order curry…), I start to get a little worried.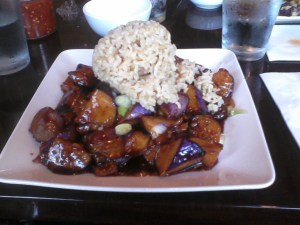 I do have to compliment Basil for their quick service and cheap prices. Their menu contains a number of Chinese and Thai specialties, most costing under $10. We also ordered an appetizer of fried tofu with peanut sauce, ($3.95) which reminded me, however imperfectly, of my favorite Thai restaurant back home. Perhaps I will try take-out from Basil on late paper writing nights or days when I'm sick of Yale Dining's 'Asian specialties.'
Meanwhile, the eggplant Wenzel from Alpha Delta failed to live up to expectations. But first, some background is in order, since there's a bit of mythology surrounding this infamous sandwich. According to Yale legend, the sub was invented by Eric Wenzel '04 on a fateful Saturday night in his junior year when he decided to combine hot sauce with chicken. The sandwich was soon adopted into the Alpha Delta menu as "Wenzel's Sub" and, through word of mouth alone, started selling like hotcakes. Recently, two Yale students developed the One Button Wenzel—the official online ordering site for Alpha Delta's most popular item—which allows you to customize a Wenzel to your taste buds (lettuce, tomato, cheese, mayo, garlic bread, ranch, blue cheese, bacon. Here's the link.)
Since the friend with whom I was staying for commencement is a vegetarian and we were getting hungry, we decided to split an eggplant Wenzel with lettuce and cheese around 2am. For the price of $8.95 (not including delivery tip), I have to confess that I was severely underwhelmed. First of all, our order didn't arrive until an hour after we had placed it; I've had half a dozen large pizzas delivered to my home in less time. ("But people get these all the time!" I thought to myself. "It must be worth the wait.")
But when I removed the Wenzel from its grease-stained paper bag like a sword from its sheath, I was not impressed in the slightest. The sandwich was made of mushy eggplant ("clearly not from the Yale Farm…"), shredded lettuce ("wilted!"), and stringy, melted mozzarella ("oh my God, this tastes like Polly-O") between two pieces of soggy bread. In addition, the sandwich included tomatoes, even though my friend specifically chose to forgo them. While the hot sauce held the ingredients together and gave the Wenzel a bit of a kick, there was so much of it that it looked like my sandwich was suffering from internal bleeding. Upon reflection, I would probably describe the eggplant Wenzel as mediocrity smothered in hot sauce; Subway next door would have been a better option.
Sometimes, I like eggplant to leave a bitter taste in my mouth. But if you're looking for that in New Haven, you won't find it at Basil or Alpha Delta.
Basil
142 Howe St.
New Haven, CT 06511
Alpha Delta Pizza
371 Elm St.
New Haven, CT 06511