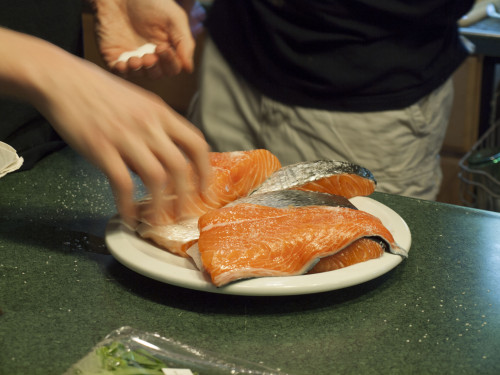 Despite the muggy weather and relative absence of olive groves, I like cooking with Mediterranean intent when I'm home from school. I'll spin some Grateful Dead, decompress, and put a yellow onion on mellow simmer. Without the usual time constraints of college cooking, I can tinker with technique and ingredient proportion. For example, I enjoy working with salmon, but have struggled on previous attempts to achieve pork-cracklin-crisp skin. Thursday night, I let the cast iron pan reach truly incendiary temperatures before laying down a fillet. The skin tightened into a sheet of pure crunch. I served the salmon over an orzo salad—I mixed a stew of onion, raisins, sunflower seeds, mushrooms, and olives with the warm pasta. If cooking fish is a matter of precision, pasta salad is an issue of instinct. Be careful seasoning the salad, because its individual components already contain salt. I thought about adding anchovies or anchovy paste, too, but alas, the cupboard was lacking any little fishes. No lies: I have no emotional connection or special interest in the following recipe. It just tastes good, which ought to be argument enough.
Orzo Salad
1 lb. orzo
1 yellow onion, diced
3 cups shiitake mushrooms, sliced
1 cup castelvetrano olives, pitted
¼ cup golden raisins
¼ cup sunflower seeds, roasted and salted
5 tbsp olive oil
1 tsp white sugar
fresh thyme
fresh tarragon
fresh basil
salt
Saute the onion, sugar, and the herbs in the olive oil. When the onions soften, add the raisins and sunflower seeds. Stir thoroughly. Add the mushrooms and stir continuously over low heat until the mushrooms decrease in volume by half. Add the olives and stir. Bring a huge pot of salty water to a boil. Add the pasta and cook for 9 minutes, or until desired texture is reached. Drain the pasta. Return to the original cooking pot. Add the stewed onion mixture and stir to combine completely. Salt to taste—take care.