Pork tenderloin gets a bad rap.
"Dry." "Flavorless." "Lackluster in every imaginable way." So I've heard this cut insulted. I, however, disagree. When properly prepared, briefly cooked over heat equivalent to the surface of a star and then finished in a gentle oven, pork tenderloin transforms into an insanely tender dish. With hints of luxurious liver and musky pig, this narrow sliver of protein plays well with fruit.
Craving some pork—who isn't—I wanted to develop a recipe that would sauce the admittedly lean meat with acid and sugar. Although June seems early for peaches, I figured that the recipe would perform well throughout July and August, even with slightly under ripe fruit. A lonely onion camped out in the vegetable drawer, so I decided to craft a savory-sweet marmalade to provide a summery dressing. Originally, I intended to prepare a buttery sunchoke mash, rough and nutty, but the local megamart had no little knobbly roots lurking on the shelves. So I picked up a parsnip, similar in flavor profile, and roasted it in thin slices to generate a chewy, crispy texture.
If only I had a kitchen in my dorm next year, I could cook for myself every night. Or at least until I got tired of the work, since this meal (while technically easy) took around 45 minutes. For less than $10 though, I felt I got my college money's worth.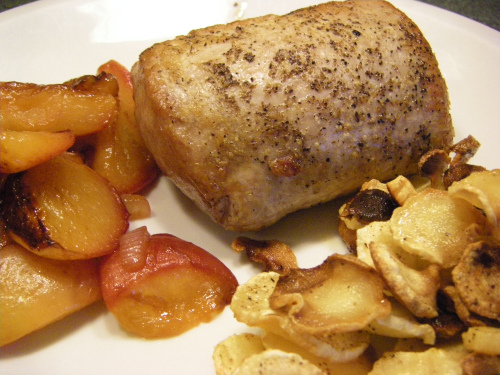 Pork Tenderloin with Peach and Yellow Onion Marmalade and Roasted Parsnip Chips
Serves 4 hungry college students at approximately $8.00 a serving.
Pork Tenderloin
2 pounds pork tenderloin
salt
pepper
olive oil
Heavily salt and pepper each side of the tenderloin. Preheat the oven to 300 degrees Fahrenheit. Heat olive oil in a large skillet just until smoking, then cook the pork tenderloin for 2 minutes on each side. Cook in the oven for 10-12 minutes or to desired doneness.
Peach and Yellow Onion Marmalade
8 peaches
1 yellow onion
4 tablespoons brown sugar
1 teaspoon salt
2 tablespoons butter
1 teaspoon nutmeg
Roughly slice the peaches into small and medium sized pieces. Begin cooking the peaches in a large saucepan over medium-high heat, stirring occasionally and taking care not to burn them. Roughly chop the onion and add to the pot, mixing thoroughly. Once the mixture begins to brown and soften slightly, add the brown sugar and salt, mixing thoroughly. The sugar and juice should begin to bubble and form a scant syrup. Add the butter and mix thoroughly as it melts. Continue cooking until the fruit begins to caramelize, then turn the heat down to low until the peaches are completely tender and soft.
Roasted Parsnip Chips
4 parsnips
3 tablespoons salt
pepper
olive oil
Preheat the oven to 425 degrees Fahrenheit. Peel the parsnips. Cut each parsnip into 1/8 inch slices. Spread in an even layer in a large baking dish. Drizzle liberally with olive oil. Sprinkle evenly with salt. Dust with pepper. Cook for 20 minutes or until brown and bubbling, then turn the heat down to 325 degrees and cook another 10 to 15 minutes, watching carefully so the chips don't burn.