Cooking chili requires restraint. Although a culture of "chiliheads" exists, a group of heat enthusiasts with a serious capsaicin fetish, most Americans prefer balance between peppery fire, salt, and acid. In typical Midwestern style concoctions, tomatoes and ground beef help mute requisite chili powder and hot sauce additions. Indeed, Steak 'n Shake's maroon version tastes more like stew than spice, a paradigmatic representation of the Missouri preference for meat over heat. Even in St. Louis barbecue, sauces tend towards sweet rather than spicy, allowing the protein's character to soliloquize uninterrupted. Therefore, chili cookoffs at home involve a game of spice roulette: how much seasoning to add to bring the dish just to the border of acceptable piquancy?
White chili poses a  formidable challenge, since tomatoes provide a helpful buffer against heat in its colored cousin. With only broth and milk to stave off untoward spices, delicate cannellini beans appear vulnerable to attack. And since white chili usually includes chicken or turkey, milder proteins than beef, the situation proves all the more precarious. Furthermore, simply sauteing breasts in a pan adds little flavor, making the average white chili either disappointingly bland or too intense for consumption. In order to bolster the chicken's inherent savor, I roasted an entire chicken rubbed with chili powder, salt, and honey. Once the skin browned to shattering crispiness and the flesh felt supple, I ripped the meat off of the bones with my fingers. A messy and time consuming procedure, "pulling" the chicken resulted in shards of super tender, juice laden meat that would fall apart into loose strands without disintegrating once immersed in the chili.
After browning aromatics and allowing beans and broth to intermingle, I dropped in the chicken: skin, flesh, and fat. As the liquid slowly evaporated, I tasted the product and felt a familiar pressure welling up around my temples: terribly bland, a virtually neutral canvas that needed immediate intervention. Frustrated, I broke my own cardinal rule of chili creation and discarded all restraint. Liberally tossing in chipotle peppers, heaping tablespoons of chili powder, and smoky adobo sauce, I cooked in a frenzy, desperately trying to salvage an increasingly unfortunate  chicken chili. Leaving the mixture to simmer, I wandered about the kitchen, pondering whether my efforts would pull the chicken in the wrong direction.
Cooking chili requires taking risks. Each scoop of my pulled chicken chili tastes sumptuously meaty, chewy and smoky with a buzzing heat that erupts from some volcanic core. Yet, this chili behaves with a certain restraint, cautious and amiable like a grinning hillbilly inviting you to look, but not touch his harvest still glistening with dirt. Restraint evolves from risk taking, an unexpected transformation from process to product that reveals a fundamental aspect of "slow cooking." Flavor rotates around an axis of overcorrection; spice follows an eccentric orbit that metamorphoses into regularity with enough time and patience. Therein, cooking chili requires experimentation and a willingness to explore, not a stuttering hand and fearful heart.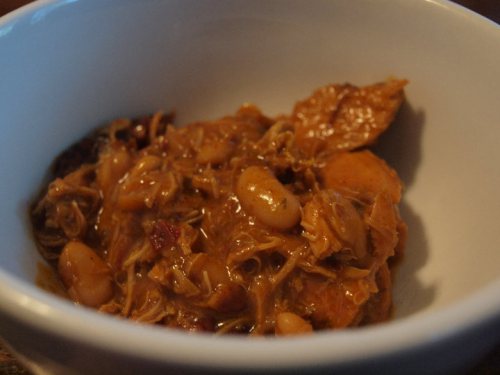 Pulled Chicken Chili
serves 4 fearless college students
1 chicken (approximately 3.5 pounds)
chili powder
salt
honey
2 tbsp butter
1 onion
1 banana pepper
1 serrano pepper
3 cloves garlic
2 cans cannellini beans
3 cups and 3/4 cup chicken stock
1/2 cup whole milk
1 tbsp cumin powder
2 tbsp cornstarch
6 tbsp chili powder
2 chipotles
1 1/2 tsp adobo sauce
2 tbsp salt
Preheat an oven to 375 degrees Fahrenheit. In a large pan, sprinkle the chicken with a liberal amount of chili powder and salt until the chicken is nearly coated on all sides. Using a squeeze bottle, cover the chicken in a thin layer of honey. Cut thin slices of butter from a two tablespoon quantity chunk and place on top of the chicken.  Roast the chicken for 50 minutes and then reduce the heat to 250 for 10 minutes, cooking until the skin is a deep bronze color and clear juices run from the chicken's core. Remove the chicken from the oven and allow it to cool. Using a large knife, break the chicken down into drumsticks, wings, thighs, and breasts. Then, pull the flesh and skin off the bones with your fingers, separating sizable pieces into smaller tidbits. Store the chicken in a bowl along with the pan juices.
Dice the onion into 1/4 inch cubes. Melt another tablespoon of butter in a large sauce pot and brown the onions. Mince the garlic, the banana pepper, and the serrano pepper and add to the pot. Saute until the peppers are tender. Add the beans, 3 cups of stock, and the milk. Bring to a boil, then add the cumin and 2 tbsp of chili powder. Make a slurry of the cornstarch and 3/4 cup of stock and slowly add to the chili. Keep boiling for 20 to 30 minutes, then chop the chipotles and add to the pot along with the adobo sauce, 4 tbsp of chili powder, and 2 tbsp of salt. Reduce to a simmer and cook until the liquid reduces nearly completely. Taste periodically and make adjustments to personal preferences. Keep warm until ready to plate. Serve with sour cream, shredded cheese, hot sauce, and oyster crackers.