The term "mystery meat" evokes traumatic images of cafeteria meat loaf and sausages with bizarre textures. Yet, I do happen to enjoy one specific mystery meat: braunschweiger. This spreadable meat product primarily consists of liver (pork, calf, veal, beef, etc.) and pork jowl. As a result, I never can be absolutely sure what I am eating. Despite this product's dubious composition, I find myself wanting to eat more, especially on a sandwich.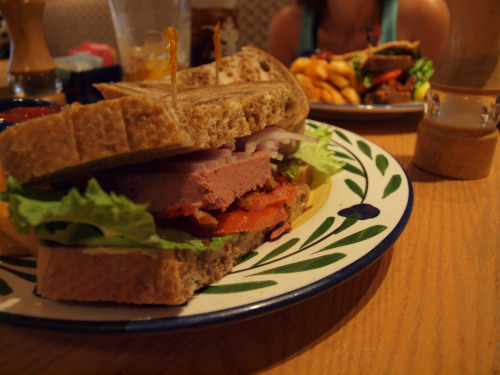 Found at Schneithorst's in St. Louis, the Milwaukee Club contains lettuce, tomato, onion, mayonnaise and several generous slices of braunschweiger all piled on rye bread. As I chowed down on this delicious sandwich, I wondered why my Mom had noticeably recoiled from my Milwaukee Club. As she made a series of disapproving expressions with regard to my sandwich choice, I pondered the reason why I liked braunschweiger so much. Perhaps I liked the creamy texture, or the salty taste of spiced liver. Both of these reasons are true, I do like the texture and the taste, but I think my love of the rich liver product stems from a few episodes in my childhood.
Coming from a Jewish family, whenever relatives would come in town, we would all meet for a brunch spread of sorts. Lox, bagels, cream cheese, pickled herring, kasha and shells, and of course, liver and onions all consistently made appearances. I would always hit the pickle plate first, wanting to get my kosher dill before the entire table had picked through the good ones. Then, I would spoon myself a nicely sized helping of liver and onions, the pungent taste permeating my meal.
Now, any liver taste, even braunschweiger brings me back to the brunches with my extended family. The rich taste of liver can be a lot for a stomach to handle, and now, just like in the past, one serving is quite enough to sate my appetite.
— Through the lens of the Ocular Omnivore.