Nathan S., Macalester College
Surrounded by the copious sandwich shops and pizzerias on Grand Avenue, a single restaurant serves up traditional Mediterranean cuisine to community members, commuters, and college students alike. Shish offers an affordable alternative to traditional American fast food with gyros, falafel, hummus, and tabouli. The café offers a small dining space with an additional room (although sometimes not enough to hold the crowds) in the back to accommodate food rushes. Due to the relatively small café size and convenience, many patrons (college students in particular) chose to phone ahead of time and pick their order up.
All the food is freshly made to order in the small but efficient kitchen in the back. The Shish Maza plate is a must order; labeled as an appetizer, it gives patrons a little taste of everything from hummus to baba ghanoush to a trio of falafels. The menu also features many different types of hamburgers with a Shish "Mediterranean twist." For example, the lamb burger consists of fresh ground lamb, mint and spices served with hummus, feta cheese, greek olives, and lettuce.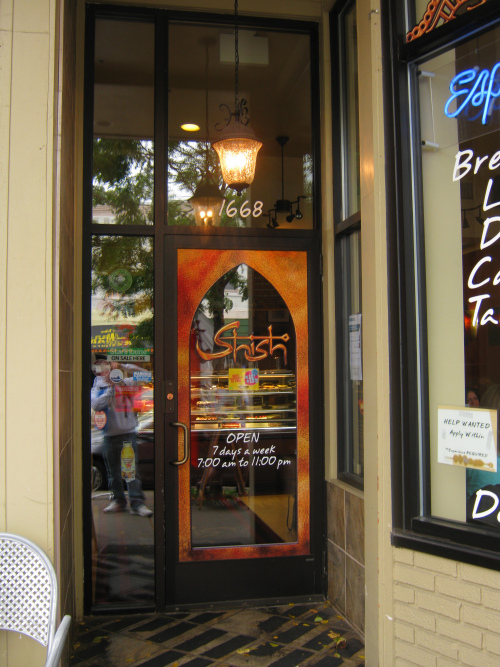 Unfortunately, I could not sample everything from the menu in one sitting so, being a huge fan of gyros, I decided to try a "gyros wrap" with fries on the side. Surrounded by a thin flatbread, the filling consisted of warm, well-spiced, and flavorful gyro meat with onions and lettuce, giving the wrap a multitude of textures. The fries at Shish are not traditional fries in the American sense. Fresh cut daily, they are deep fried and seasoned with a cilantro and lemon mixture that had me craving more.
Hungry for more, I decided to sample one of the restaurant's desserts. It was next to impossible to make a decision. Should I try a piece of pistachio baklava? A freshly baked cookie? Or a piece of one of the decadent cakes? I settled for a mint brownie that  melted in my mouth. Shish's Turkish coffee is also a nice break from the weak "brown water" many establishments offer.
With sandwiches and wraps starting at as little as $5.95, Shish is a wonderful, refreshing, and affordable escape for a student from the dorm food scene.