Nathan S., Macalester College
Nestled between two other notable restaurants just west of Macalester College on Grand Avenue lies a fairly new and unknown deli restaurant by the name of Grand Sandwich. It was started last year by Daniel Esrig, a recent economics and geography double major graduate at Macalester, who wanted to "fill a niche" in the neighborhood, which previously lacked a deli. As a result, his deli serves up all types of sandwiches, toasted subs, and paninis made with high quality and unique ingredients.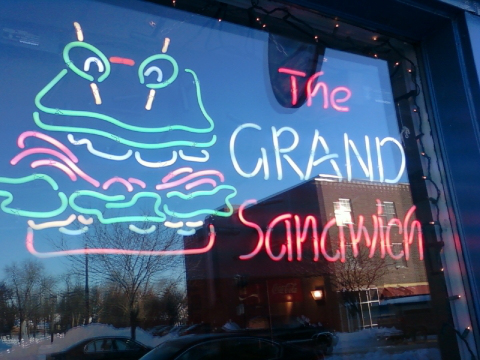 While Grand Sandwich offers many interesting pre-created choices such as the Spicy Garlic Supreme, the Trifecta, and a classic, Turkey and Avocado, I think it's much more fun to create your own. With 13 different types of meat and meat substitute, 14 different types of vegetable toppings, 5 types of cheeses, and 8 types of breads, one can create something new every time. My personal favorite toppings are "peppers and oil" and the "cranberry chutney", which are unique at this particular deli. Although sandwich size is smaller than Subway and Quiznos, the superior quality and selection of the bread and toppings makes up for this discrepancy.
I frequent The Grand Sandwich probably once every two to three weeks. When I want to get a sandwich, however, I do not actually enter the store. For no extra charge, Grand Sandwich offers delivery to the Macalester College campus. I just phone in my order, tell them which dorm I'm in, and 20 minutes later I walk down to the lobby and pay the delivery person. This convenience is hands down one of the best parts of the Grand Sandwich experience. In the Minnesota winter, when temperatures are in the single digits and there is 16 inches of snow on the ground, there is no way I'm walking down Grand Ave to get a sandwich.
Although it is slightly more expensive and offers a smaller sandwich than its competitors, The Grand Sandwich boasts many advantages that help close this gap. For one, it offers a plethora of quality and unique ingredients that I have not seen anywhere else, making interesting sandwiches  and a pleasure to eat. It also offers delivery free of charge and stays open till midnight most nights, making it the perfect place for the college student seeking a late night snack. Finally, at prices ranging from $5 to $7 a sandwich, this deli will hardly break a college student's already tight budget.