Nathan S., Macalester College
The field assignment for my Regional Geography of Latin America class was to investigate vibrant Latin American immigrant communities in the Twin Cities. Out of the twelve possible sites, I chose the closest one to campus: El Norteño, a Mexican restaurant about a 20 minute bike ride from Macalester. On a sunny Saturday afternoon, my friend and I hopped on our bikes and set off across the Mississippi River and into Minneapolis.
From the green, white, and red patterns on the restaurant's awning, one can immediately tell that this restaurant obviously has Mexican aspirations. Apart from the awning, there is nothing impressive about the outside of El Norteño, and if anything, it looks a bit shabby. Once my friend and I stepped inside the doors, however, we were surprised to see a nice dining room adorned with symbols of Mexico: walls covered with sombreros and bull horns. The hostess asked us if we wanted to sit inside or out on the patio and with a bit of hesitation, we decided to dine on the patio.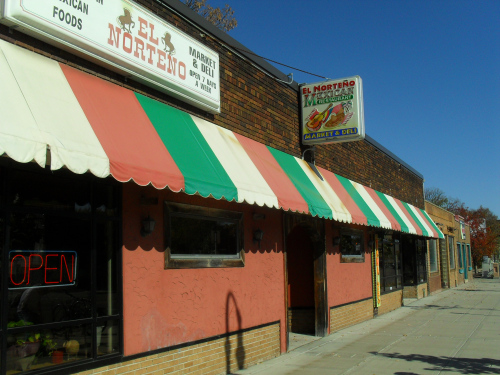 As we walked out of the dining room, we entered a tranquil patio area in the back, lush with an abundance of plants and interesting murals on the walls. Chips and salsa were served by the waitress, who appeared the only person other than the cook staffing the restaurant. The chips aren't't anything special, but the salsa is well spiced and tasted fresh.
El Norteño's menu is expansive and includes all the typical Mexican fare, but also surprisingly expensive—entrees ranged between $10 and $15. Despite being on the pricier side, I decided to try one of my favorite Mexican dishes: chicken tamales. The meal came to the table surprisingly fast, despite the lack of staff, and smelled good. Along with the tamales came a portion of Spanish-seasoned rice, refried beans, and a "salad" which  consisted of some bagged iceberg lettuce and a few diced tomato pieces. Less than impressive.
Despite this troubling first impression, I decided to dig in due to my extreme hunger. While the rice's reddish color belied intense flavor, I couldn't taste any spices. Put off by the sides, I decided to attack the tamales. My first bite reminded me of how much I love a decent tamale. By my second bite though, I realized that the the tamale, along with the meat inside of it tasted uncharacteristically dry. The shredded chicken inside also had little to no flavor. I would have been able to let this slide if El Norteño had at least provided an abundance of tamales for $12. But to my dismay, $12 only buys two tamales and some pretty mediocre sides, reminiscent of Chevy's Fresh Mex.
El Norteño provides neither "quantity over quality" or "quality over quantity". The well decorated and aesthetically pleasing restaurant interior gives patrons a false sense of authenticity which fails to make up for the mediocrity of dishes served. Furthermore, the small-portioned entrees are overpriced, which is a huge deterrent to college students living nearby. While I successfully completed my Geography field assignment, I doubt I will be visiting El Norteño again in the near future as it provides little to no "bang for the buck."