Zach B., Yale University
Growing up Jewish, deli food was a staple in my house. From pastrami to tuna salad, cold cuts and various "salad" sandwiches always found their way into my lunch bag. Coming to New Haven, I found that this city does not have nearly as rich of a deli heritage as say New York, but I have found a place where I can get my fix.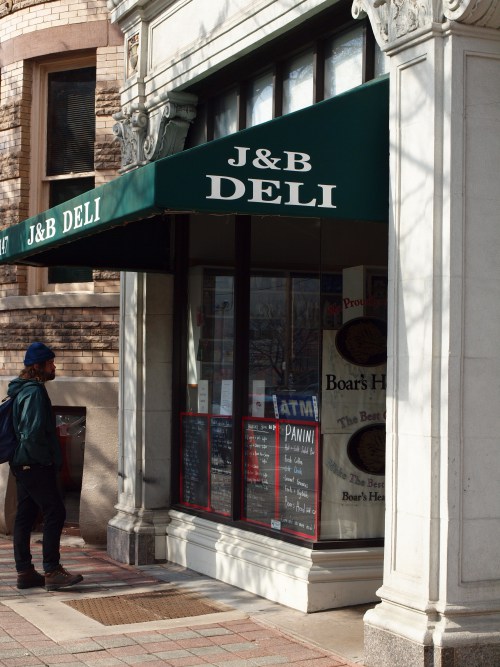 J&B Deli always has a few customers milling around its rather cramped confines. Conveniently located on Chapel Street around the corner from the School of Architecture, J&B is more of a small grocery than a deli, as they offer produce and other goods as well as various meats and sandwiches. For this piece I decided to try their three "salad" sandwich options, chicken, tuna, and egg.
For a reasonable price ($5.50), one can get any of these salad sandwiches in club form, with tomato, lettuce, and bacon. My favorite of the three has to be the classic tuna. Creamy, but not without texture, the tuna salad has a strong pepper flavor that does not overwhelm the tuna nor does it become too spicy. The pepper adds a dimension of flavor that your average mayo and canned tuna salad can't match. Although the bread toes the line between acceptable and wimpy, I don't really mind because the tomato and lettuce are so fresh, not to mention the generous amount of tuna. So while crispier, thicker bread would add a lot to an already pretty good sandwich, I highly recommend the tuna salad sandwich.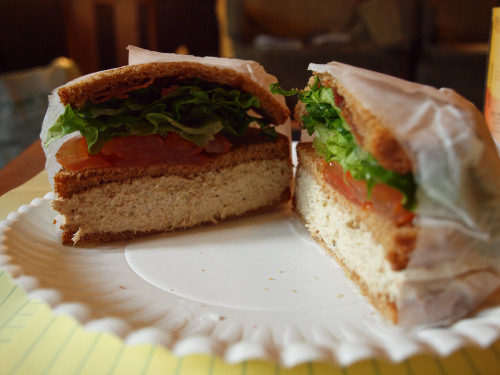 The egg salad falls into a similar vein of salad goodness, a similar pepper flavor permeates and enhances the creamy egg. The chicken salad seems much too close to the tuna salad in texture. While I expect my tuna salad to be pulverized, the chicken salad is a bit too smooth. I want more texture in a chicken salad, something I can sink my teeth into. Their version of chicken salad falls squarely in the average category due to the texture issue.
J&B Deli also offers a mix and match food bar of sorts, with seemingly random food items gracing it's steel bins, including sushi alongside some chicken wings. I have yet to try the food bar, but patrons seem attracted to the cycle of asian dumplings they put out.
While J&B Deli does not bring back the kosher salami and dill pickles of my childhood, they do offer a decent selection of quality sandwiches at reasonable prices.
1147 Chapel St
New Haven, CT 06511