Zach Bell, Yale University
Back in December 2010, I baked a raisin pie and commented on its usage as a "funeral pie." Upon some further research into a variation, the sour cream and raisin pie, I found that it also originated among Mennonites settling in the Great Plains, quickly spreading to other local communities. Funerals in the mid to late nineteenth century were opportunities for the community to gather and express hospitality. This hospitality often arrived as edibles, and especially as dessert. Guests and relatives would bring food to show their sympathy and condolences. A funeral staple was the raisin pie (and other improvised variations) , a dessert that could be quickly made out of readily available ingredients.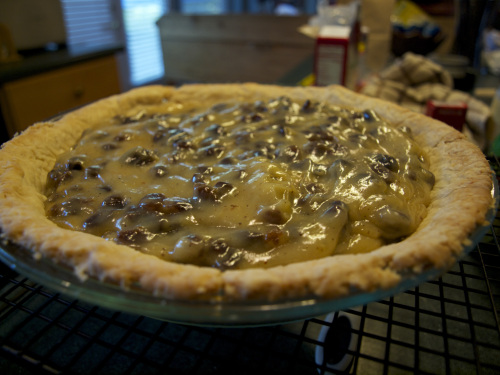 First I made my usual half shortening, half butter crust and fully prebaked it. Once I set that aside to cool, I started on the filling. Get out a medium saucepan and combine four and a half teaspoons of corn starch, a little more than a cup of white sugar (I put in an eight of a cup more), a quarter teaspoon of salt, and three quarters of a teaspoon of nutmeg (or some other combination of spices). Then, mix in one and a half cups of sour cream, I wouldn't use light or reduced fat, the creaminess of the filling depends on the fat content.
Add three egg yolks, one and a half cup of raisins, and about a half a tablespoon of lemon juice. Now heat that mixture in the saucepan over medium heat until it thickens and boils for one minute. Pour the filling into the shell.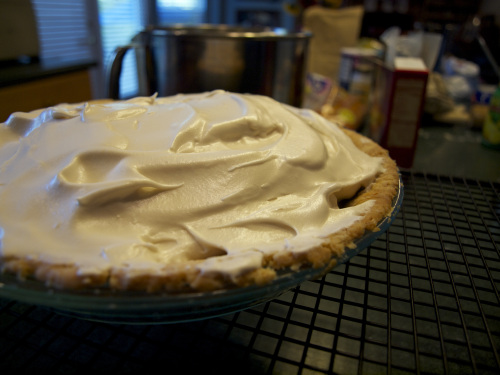 Finally, make some form of top. This could be a lattice top, like I made for the last raisin pie, or it could be a whipped cream or meringue. I chose to make a brown sugar meringue. Essentially I just took the usual 3 egg whites, half teaspoon of vanilla extract, and quarter teaspoon of cream of tartar, but I substituted six tablespoons of brown sugar for the white. Then bake it for ten minutes in a four hundred degree oven.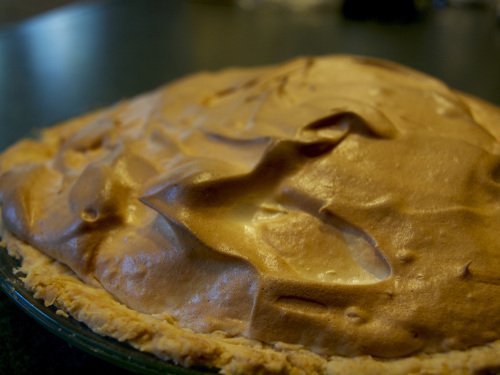 The brown sugar gives the meringue a light molasses flavor which works well with the somewhat tangy filling.
This pie went over very well for sour cream believers and skeptics alike. So even if you're not going to a funeral, everyone appreciates a little hospitality in the form of pie.