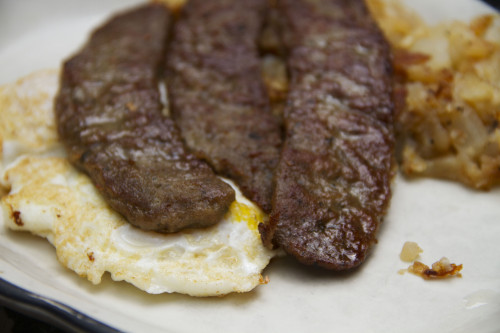 Bay Ridge is an infinitely long and mysterious neighborhood, and before this weekend I never thought to visit. Or the prospect of a long ride on a slow machine diverted my route to closer destinations. Now that I live in Crown Heights, the only plausible excuse sounds something like, "With so many interesting restaurants down the street, why should I journey to other, equally alien lands?" For the sake of exploration, ethnography, and the forces of evil, of course. And after a run across the Williamsburg Bridge and back again, my brother wanted breakfast food of a more traditional bent, which is not to say that the salt fish at Trini-Gul is unpleasant, but one can only eat Caribbean food so many days in a row. We decided on Anopoli Ice Cream Parlor and Family Restaurant, two blocks from the Bay Ridge Avenue station. The street stretches South, shrinking and thinning around the edges as it reaches the horizon, and yet the assemblage of Chinese massage parlors and pubs, Irish and German, cafés (including Aloha Grounds, a Hawaiian coffee shop and barbecue restaurant), grocery stores, bodegas, vintage clothing outlets, and bakeries upon bakeries upon each other and redundant, is still visible. Anopoli sits at the beginning, and after brunch it would be easy to experience buyer's regret. An ambitious eater might require two years to sample the food options thoroughly. Here a Polish restaurant, Polonica, there a bagel shop, Sam's; those with small eyes will find them bigger than the biggest stomachs. At Anopoli, we ate gyro on eggs with a stack of buttered toast. We sat in the backyard on plastic lawn furniture, sunning ourselves like black cats. Three Greeks smoked and gossiped while we ordered ice cream. The double-scoop sundae looks three or four scoops too much, hidden under a hillock of whipped cream and hot fudge. Two flavors, maple walnut and chocolate chocolate chip, were enough for me, and I staggered out to the register almost too full to speak. I managed to squeak a thanks and drop a tip.
Twenty minutes later we found ourselves inside Deliso Confections. We never intended to stop when we saw the sign off 87th Street, but Anthony Deliso, the owner and resident candyman, jumped out the door and ushered us in. We never intended to taste any confections, but Anthony forced bits of toffee at us. We never intended to make a purchase, but Anthony convinced us otherwise. After trying a white chocolate passion fruit bonbon and a hunk of chocolate caramel corn we exited, Anthony still selling, shouting over our shoulders, "do you like spicy? I have a cayenne chocolate!" Apparently Anthony is quite the salesman, and a self-taught chocolatier, too.
When Anthony lost his job—finance, no surprise—he took his passion for candy and turned it into a career: a story so tired that it deserves a respite. Yet, Anthony is no hipster and not, at least that I can detect, a pretentious bourgeois performer of blue-collar values. Deliso opened four months ago, and Anthony confides that he's barely making rent. Bay Ridge certainly seems more two-scoop sundae than two-dollar bonbon ($1.75, to be precise), and I suspect that Anthony's stint at Jacques Torres is not helping business. Despite his unimpeachable technique—snappy couverture, smooth ganache—Anthony's chocolates look like Torres clones, all hearts and prisms airbrushed with colorful cocoa butter. The Torres look book has become de rigueur for chocolate startups, and I wish Anthony would pick out a different wardrobe. Why buy an equally expensive knock-off instead of the original?  In fact, the best treat I tried, the cashew cup, is one of Anthony's more creative inventions, a long narrow cylinder filled with cashew butter. Technique might carry the business for now—a satiny salted caramel, a Bailey's and marzipan dodecahedron, that addictive toffee—but Anthony needs more than skill and a good sales pitch: his chocolate wants for style and sex appeal. A nice guy but no badassery.
I crossed 4th Avenue, mainly residential, saw my brother to the subway, and set off alone on 5th, ducking into Arabic-lettered sweet shops. At Al-Aryassi, I asked for a zaatar croissant, well-done please, the pastry threads woven with sesame seeds and oregano. A first for me, zaatar-stuffed croissants are evidently ubiquitous in Beirut. Americans, bred on sugar and milk, prefer heavier chocolate laden butter bombs. I understand the appeal of the Beirut variation though, perhaps enjoyed with a malty beer on one of the benches lining the Avenue. Beer-less and quickly minus one croissant, I read a Norwegian novel and watched the afternoon. In Bay Ridge, the ocean tingles on the tip of the nose, an echo that laughs, mocking, from a safe distance. The Verrazano-Narrows Bridge towers over squat white homes. Each polished block of blue and gray grinds an arch into the sky.
After my break, I wandered into Nablus Sweet & Pastries and ordered four different pieces of baklava and a coffee. They wrapped my baklava in plastic and I carried it in my backpack until the evening, when my brother and I conducted a hasty and imprecise comparison. I favored the almond slice over walnut and pistachio for no real or true reason. Back in my apartment, I think my tongue still held dear the memory of the sour cherry Greek yogurt that I had for dinner. From Bay Ridge, I went to the Strand and bought books I did not need, and then transferred uptown, to Anthi's Greek Food. Despite my saturation with Mediterranean and Middle Eastern foods, I managed a cup of that full fat yogurt, blended with a nutty streusel and cherry hunks. So by the time I mused over my baklava and tried, with great concentration, to pick a winner, my mouth and tongue were numb and entirely confused. Such is the inevitable aftereffect of interborough travel. We pay the penalty for virtual teleportation through the bays and obscure soils of the city. What ignorant blisses and how little we know, tangled and crushed like grapes in the grip of strange toes.